Compliance Recording (Voice Loggers)

Does your business or organization have a call center or an enquiry department? If the answer is yes, then do not hesitate to contact us with regards to our Voice Logger Systems.
A Voice Logger a stand-alone system that is inter-connected with your communication system for the main purpose of regularly recording, storing and playing back telephone conversations/communications. Businesses or organizations (not only limited to those that have call centres or enquiry departments) often undertake voice logging on order to ensure improved customer service, and for general quality monitoring/assurance.
Banks, hospitals, and other government institutes that deal with clients over the telephone can also make use of Voice Loggers to ensure compliance with regulations.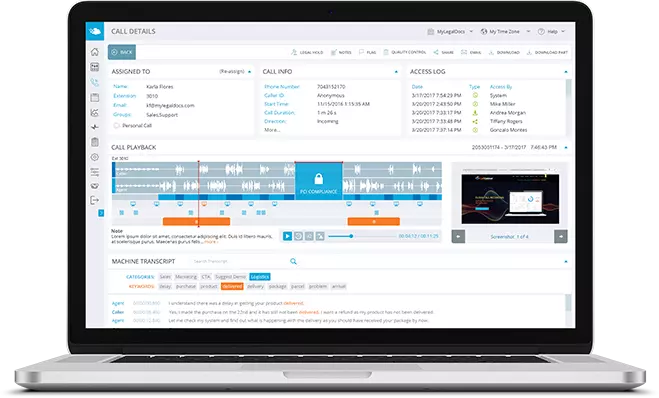 OmniTel Namibia's Voice Logger System is multi-channel and can be integrated within your communication setup to enable either Extension side or Trunk side recording and monitoring. Our system is capable of connection via ISDN Basic Rate (BRI), ISDN Primary Rate (PRI), IP, Analog and TDM Extensions onto your PABX system.
 Functional, Efficient, Flexible, Effective!!!
Our flexible and easy-to-use Voice Logger systems are rich with advanced features and will help any organization boost productivity and inherently client satisfaction. Management can also monitor and evaluate their employee performance and improve it by providing training where deemed necessary. Continuous monitoring will also ensure quality management in the organization whereby the cause of internal disputes (amongst staff) and external disputes (between staff and clients) can be easily investigated and thereby effectively resolved.
Multi-Tenant Call Recording – multi-tenant design seamlessly integrates with 99.9% of all communications platforms
AI-Driven Call Analytics – optional Speech Analytics gives you immense insight from your recorded call data.
Agent Performance Metrics – agent performance metrics allows you to accurately measure employee interaction touchpoints (courtesy, efficiency, clarity, etc)
One Interface – Agents, supervisors and managers share a common interface to manage call recordings, training, QA, analysis, and compliance.
Hear and See – Visual conceptualizing of call patterns helps you to identify trends and easily interpret caller and agent relations.
Search – intuitive retrieval of critical data through keyword and keyphrase search powered by Speech Analytics. You can also datamine your call recordings to find words specific to your organization interest (e.g. competitor mentions, product names, etc)
Accessibility & Availability – calls are recorded either in the cloud or on-site and accessed via a web interface (HTML5) from the computer or your mobile device.