UC Solutions

"Improved collaboration ensures High Productivity"
We specialise in making Unified Communications a reality by providing  IP or cloud based PBX and UC solutions to suit your business needs. Our solutions are also capable of inter-operability / integration with traditional telephony PBX systems.
Our Unified Communication platforms facilitate seamless integration of various mobile and desktop applications/ technologies such as:-
– Voice based applications e.g. telephony (softphones), voice conferencing, and voicemail
– Text based applications e.g. chat, email, text messaging
– Real time presence
– Fax to Email
– Video based applications e.g. Desktop/web-based video conferencing
– Pre-built integration – plugins for Microsoft Outlook and Skype for Business / Lync
– API integration – integrate your communication system with your everyday business application and enable users to launch calls directly from within your CRM application.
myPortal @ Work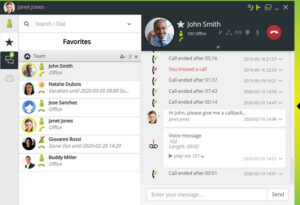 Provides a common user interface for UC features. Depending on the UC service operation mode and the configured features within OpenScape Business the scope of available features varies slightly.
myPortal @work offers am embedded Voice over IP telephony client. If the VoIP option is activated voice call related features of the myPortal @work client use the VoIP function.
myPortal@work in UC Smart mode can be used instead of an existing myPortal Smart Desktop. Existing UC-Smart settings are automatically incorporated into myPortal @work after its installation. The existing UC Smart user license can also be used with myPortal @work.
myPortal @work in UC Suite Mode can be used in combination with existing myPortal for Desktop/Outlook Client (CTI, Favorites and Conversations). The existing UC Suite user license can also be used with myPortal @work.
Highlights of myPortal @work:
New conversation oriented graphical user interface with:

Flexible/scalable User Interface with different scaled views

Left or Right docking –fitted to customer needs

Minimize to tray function

Tray pop up on incoming / outgoing calls

Combined input field for search & dial function

Conversations view for contacts

Facilitated conference management

Click to Dial via Hotkey

Telephony Hyperlink Services such as tel: and callto:

Integrated WebRTC based VoIP client (incl. device@home support)

Integrated Desktop Dialing function
myPortal for Outlook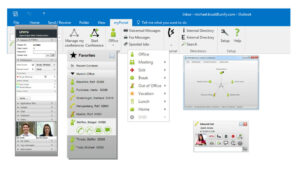 An Add-on that seamlessly integrates all UC Suite functions of myPortal for Desktop in Microsoft Office Outlook. Therefore, for instance, every user has direct access to their personal voice and fax messages, can dial directly from their Outlook contacts, or use these contacts for planning telephone conferences.
The user interface of myPortal for Outlook consists of the myPortal for Outlook tool bar integrated in Microsoft Outlook, a separate window with the Favorites list and further windows and screen pops, depending on the situation. By default, the tool bar of myPortal for Outlook is located below the menu bar and the tool bar of Outlook (Outlook 2003, Outlook 2007). In Outlook 2010+ the icons of myPortal for Outlook are located in the myPortal ribbon tab.
myPortal for Outlook provides the following features:
Common UC features
Directories

Favorites List

Journal for calls

Desktop Dialer

Screen pops

Presence status

CallMe service with ONS (One Number Service)

Status-based call forwarding

Personal AutoAttendant

Conferences

Record calls

Instant Messaging

Voice and Fax messages
Initiate a call out of an Outlook Contact

Create an Outlook Contact from the Sender of a Voice Message

Send a Voice Message as an E-mail

Send a Fax Message as an E-mail
myPortal Smart Desktop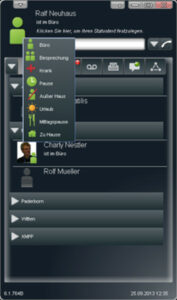 A PC desktop client for accessing the unified communication functions of the UC Smart solution within OpenScape. Different skins are available to meet customer requirements regarding look and feel and handling.
myPortal Smart
SW is part of OpenScape Business software package. It supports Apple MAC OS & MS Windows environments.
Besides convenient dialing aids myPortal Smart gives easiest access to all UC smart functions, such as
Presence incl. status based call routing and announcements

Favorites incl. presence visibility, call status and call pickup option

Visual voicemail control

Voicemail to email service

CTI incl. ad hoc conferencing

Directory access and instant search

Call journal incl. reminder function

Chat

Hotkey dialing
myPortal for Deskphones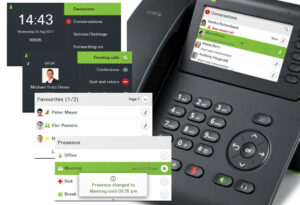 I
s the user interface for OpenStage 60 HFA, OpenStage 80 HFA and OpenScape IP Desk phones. It allows office based workers fast change of their presence status and fast & comfortable access to their voice mail box
Depending on the UC solution within the communication system myPortal for OpenStage offers different features for control of:
The following presence states can be set and displayed in combination with UC Smart or UC Suite:
                -Office
                -Meeting
                -Sick
               – Break
               – Gone out
               – Vacation
               – Lunch
               – Gone home
The visual Voice Mail control is available only in combination with the UC Suite solution
                – Voicemail Indicator
                – Voicemail folders (incl. number
                   of received messages)
               – Voicemail control
Listening to Voicemail

Delete a Voicemail

Move a Voice Message

Display Details of a Voicemail
myPortal to go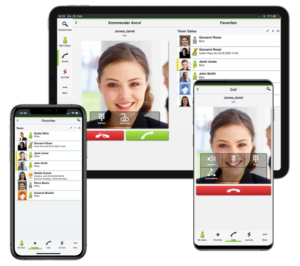 A feature-rich unified communications app for iOS and Android smartphones. It is compatible to OpenScape Business V1R3 systems and higher and supports both UC Smart and UC Suite.
Besides convenient dialing incl. one number service, myPortal to go offers access to many other UC related features like:
favorites

directories

journal

presence status

voicemail access

etc.
myAttendant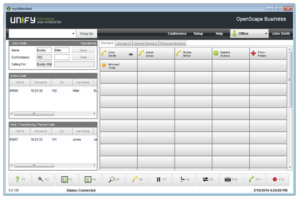 is a Java based client for accessing attendant and the unified communication functions of
OpenScape Business
from a Desktop PC.
Besides convenient dialing aids via phone directories and favorites, and information on the presence status of other subscribers, myAttendant can, for example, also be used to access voicemails and Fax messages. LAN messages (Instant Messaging) assist you in communicating with other internal subscribers.
Diffenrent skins are available to meet customer requiremnts regarding look and feel and handling.
myAttendant offers the following features:
        -Attendant functions
        -Favorites List
        -Journal for calls
        -Screen pops
        -Presence status
        -CallMe service
        -Status-based call forwarding
        -Personal AutoAttendant
        -Recording calls and conferences
        -Instant Messaging
        -Voice and Fax messages